I have been in the financial industry over 15 years with a background in the Credit Union industry providing consumer and mortgage lending. I enjoy offering financial solutions for each person's needs and have carried that love of lending to Island Home Loans. It is my dream to assist you and your family to find your perfect home financing on the beautiful Hawaiian Islands.
I was born in Oklahoma so naturally I have a love for college football, camping and fishing. Even though I have lived from California to Tennessee I can say without a doubt that Big Island living has been my greatest adventure. My family moved here in 2016 and we have not looked back. When I am not working I enjoy exploring all the island has to offer, going to the beach and finding new island flavors.
The first year and a half of living here I worked at a local credit union in Hilo and became enchanted with the island, the amazing community and the Aloha. I bought my home in the Puna district after 6 months of living on the island and it was at that point that I knew that I wanted to provide that amazing experience for others. I am here to work not only with you but for you to make your home financing options a breeze.
To get pre-approved by a qualified Loan Officer, contact me at Island Home Loans (808) 961-0605, kimberly@islandhomeloans.com, Facebook, or visit me at 688 Kinoole Street, Suite 209, Hilo, HI 96720 Monday-Friday 830am-4pm.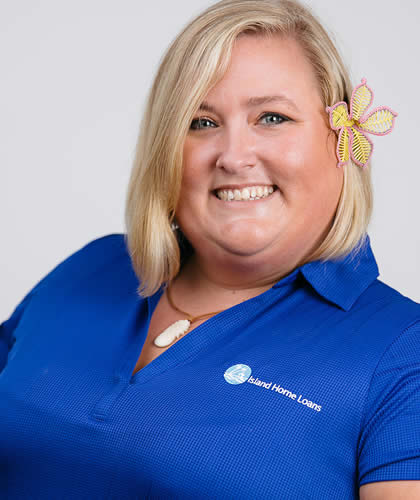 Kimberly Quintana, Mortgage Planner NMLS#674981